Deskripsi
Material : Breeze
Harga tercantum untuk 5 ukuran :
– XS (47 x 61 cm)
– S (50 x 64 cm)
– M (52 x 66 cm)
– L (54 x 68 cm)
– XL (57 x 71 cm)
Untuk ukuran besar harga +Rp 20.000,- :
– XXL (60 x 74 cm)
w = width = lebar baju kiri ke kanan, diukur pada saat baju diletakkan flat di permukaan datar
h = height = tinggi baju atas ke bawah, diukur pada saat baju diletakkan flat di permukaan datar
Jaket anime ini merupakan adaptasi dari jaket klub bola voli SMA Nekoma (Metropolitan Nekoma High School) dari anime Haikyuu.
Adapun anggota klub bola voli SMA Nekoma adalah : 
Metropolitan Nekoma High (Japanese: 都立音駒高校 Toritsu Nekoma Kōkō), or Nekoma High for short, is a high school in Nerima Ward of Tokyo in Japan.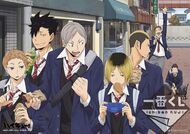 Nekoma, like most Japanese schools, has a uniform and dress code. The male uniform  consists of a white shirt, red tie, black sweater vest, dark blue blazer, and grey pants. The female uniform, meanwhile, appears to have a light (likely white) top and matching collar, with a bow at the neck and a darker skirt.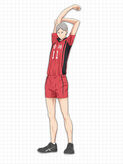 The boys' volleyball club's uniform consists of a red tracksuit with white details. The members wear black t-shirts and red shorts during practice matches and often don a blue sports bib on top. During official matches, the majority of players don a red jersey and shorts with black details. The libero has a contrasting jersey in white with red and black details.
If their opponents have a uniform that is similar to their's in colour, then the players would wear a white jersey with red and black details, and the libero a red jersey with black details.
Volleyball Club
Due to the players' flexibility and solid receives, the Boys' Volleyball Club team is nicknamed "The Cats," which is also an allusion to the school name.
Nekoma and Karasuno are said to be "destined rivals" because of the longtime competition between their respective coaches, Nekomata and Ukai. Since the two teams' animal representatives (cats for Nekoma and crows for Karasuno) are animals that are usually found at the dumpster, the matches between the two teams are often called "Battle at the Garbage Dump" or "Trashcan Showdown" in the anime english dubbing. So far, Karasuno has never won against Nekoma in their practice matches. However, the teams have not played against each other for a noted while until recently during the current time period when Nekomata returned from retirement (it was noted that when Kuroo and the other current third years were second years, Nekomata wasn't around).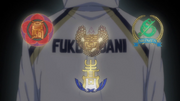 Before matches, to "set the mood", Nekoma players would always recite the chant: "We are the body's blood–flow smoothly and circulate oxygen so the brain functions normally". The english dubbing has re-phrased this chant to: "We are plasma. Let's make our motions fluid. Keep the oxygen flowing so the brain can work to its full potential."
Nekoma lost in the Tokyo Prefecture Interhigh Preliminaries in the quarterfinals, but the third years decided to stay in the team for a chance to participate in the Spring Tournament.
Nekoma qualifed as the host representatives for the Spring High. Normally Tokyo would only get two representative spots, but this year had three due to being the hosting city for the tournament. After losing to Fukurodani in the semifinals, they defeated Nohebi in the third place match. They qualified along with Itachiyama and Fukurodani.
Nekoma is also a member of the Fukurōdani Academy Group, which is composed of teams from the Kanto Region. For years, the schools have been holding summer training camps and practice matches with one another.
Members
Selain jaket Nekoma, kami juga ada jaket sekolah lain, seperti : – Aoba Johsai – Shiratorizawa – Karasuno – Nekoma Selain jaket, tersedia juga beberapa jersey Karasuno dengan nomor punggung 9, 10, 11 dan 4.