Deskripsi
Bahan : Diadora Sport
Tersedia dalam 5 ukuran : (tulis ukuran saat CHECK OUT)
– S (w = 53cm, h = 66cm)
– M (w = 55cm, h = 67cm)
– L (w = 57cm, h = 68cm)
– XL (w = 61cm, h = 70cm)
– XXL (w = 64cm, h = 72cm)
w = width = lebar jaket dari kiri ke kanan dalam keadaan flat
h = height = tinggi jaket dari kerah ke pinggang dalam keadaan flat
Jaket anime ini merupakan adaptasi dari jaket klub bola voli SMA Shiratorizawa Academy dari anime Haikyuu.
The Boys' Volleyball Club is considered a "powerhouse", ranked among the Top 8 of Japan. It has been noted by the captain, Wakatoshi Ushijima, that Shiratorizawa supposedly never weakens no matter what; in accordance with that, Shiratorizawa had been undefeated and the representative for Miyagi Prefecture for generations, only having lost to Karasuno recently. Additionally, Ushijima is one of the three best aces in the whole country and is currently one of Japan's under-18 (under-19 in the anime) volleyball representatives for the Youth World Championship.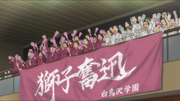 Shiratorizawa, combined with their clean reception and precise sets, is exponentially strengthened with super-ace Ushijima, who tears down the blocks and strategical plays of its adversaries (as seen in the battle against Aobajohsai in the Interhigh). The team's main strategy is to focus everyone's strength to support Ushijima, hence the reason why it's symbolized by a single eagle; this is unlike Karasuno with its multiple crows as it focuses on teamwork and individual strength.
The team has also defeated Aobajohsai in the final match of the Miyagi Prefecture Interhigh Preliminaries and advanced to Nationals. The third years of the team had decided against retiring for a chance to compete in the Spring Tournament.
The most well-known generation of Shiratorizawa is the current one, but the most successful one was Ushijima's father's generation. Utsui's generation had a 190 cm ace and had probably won first place in Nationals[2].
Members
| | | | |
| --- | --- | --- | --- |
| Name | Position | Year | Status |
| Tanji Washijō | Coach | – | Active |
| Akira Saitō | Coach | – | Active |
| | | | | |
| --- | --- | --- | --- | --- |
| Name | Number | Position | Year | Status |
| Wakatoshi Ushijima | #1 | Captain / Wing Spiker / Opposite Hitter / Ace Player | 3rd Year | Active |
| Jin Soekawa | #2 | Vice Captain | 3rd Year | Active |
| Eita Semi | #3 | Setter / Pinch Server | 3rd Year | Active |
| Reon Ōhira | #4 | Wing Spiker / Outside Hitter / Vice Captain | 3rd Year | Active |
| Satori Tendō | #5 | Middle Blocker | 3rd Year | Active |
| Yunohama | #7 | Pinch Server | 2nd Year | Active |
| Tsutomu Goshiki | #8 | Wing Spiker / Outside Hitter | 1st Year | Active |
| Kenjirō Shirabu | #10 | Setter | 2nd Year | Active |
| Taichi Kawanishi | #12 | Middle Blocker | 2nd Year | Active |
| Kai Akakura | #13 | Libero | 1st Year | Active |
| Hayato Yamagata | #14 | Libero | 3rd Year | Active |
| Shibata | ? | Wing Spiker | 1st Year | Active |
| Yūshō Sagae | ? | Wing Spiker | 1st Year | Active |